Virtual First Friday at Liberty Station (Online)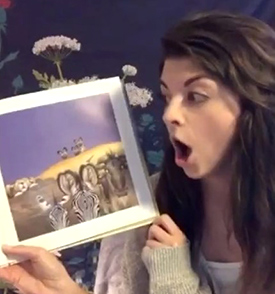 Keep an eye out for First Friday, a monthly virtual event created by the Arts District at Liberty Station! First Friday is hosted by beloved Reading Legacies staff member Claire Gerbasi. Join her for a live read-aloud, interactive games, and a fun Q+A with special guests that focus on the value of reading with children. Click here to watch this month's First Friday, featuring a surprise guest!
Book Bridges: A New Program Model for Juvenile Participants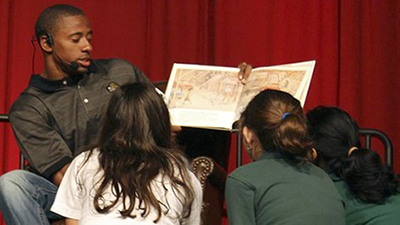 Reading Legacies has launched a new and unique model of our Book Bridges program, in effort to continue connecting children with their family members. Reading Legacies Board Member and former San Diego Chargers Cornerback Derek Cox has taken on the role of leading virtual workshops with program participants at a local juvenile detention facility. Focus points of these group discussions include how the youth can continue to be a role-model for their children and younger siblings at home by reading to them, the lasting benefits of reading together regularly, and what their goals and ambitions are once released from the facility. After participating in the virtual workshops, the youth have the opportunity to read a storybook out loud to a child at home using Skype.
Book Bridges: Coming Soon to South Bay!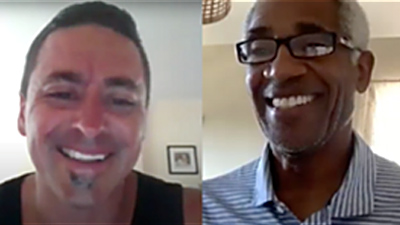 Our new Book Bridges program, formerly known as Family Connections, is set to debut at a South Bay Correctional Facility in the coming weeks. Incarcerated residents will have the opportunity to watch a motivational video featuring Reading Legacies Board Member and NFL Top 100 of All-Time player, Mike Haynes, and formerly incarcerated program participant, Kory Russell. Their video includes a discussion about the educational and emotional benefits of reading with children and insights from Kory about the ways it helped shape new relationships with his daughters. In the video, Mike and Kory encourage the men to make their next phone call home a story time for their families. Each program participant – along with their children at home – will receive a free book to use and keep. Mike and Kory's powerful testimony has the potential to reach upwards of 4,000 incarcerated men and their families. Click here to enjoy a 5-minute snippet of their conversation!
Our Children Are Watching Us
Our children are watching us in all that we do and say!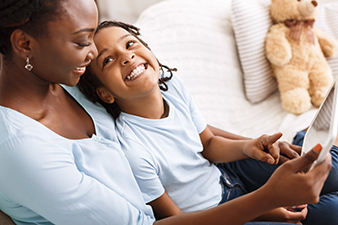 Our children are watching us in all that we do and say! We are their role models!! They are our future!!!
The shock and confusion and fear they must be feeling as they watch the racial hatred that was demonstrated in the killing of an innocent African-American man, and then the anger that is being demonstrated in unruly and destructive actions must be terribly harmful to their little hearts and minds.
I am saddened and embarrassed by our adult behavior and long to help protect our children from the harm they must be experiencing in this time in our history. I would simply suggest to you ALL – no matter what race you may be, your socioeconomic status, your faith persuasions, your age or relationship to a child you know, to stop and think about what message you are giving the young children who are watching you right now by your actions.
Read the full message
Grandparent Storybooks
Giving Seniors a Look at What's Ahead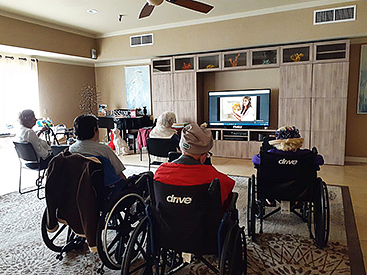 Due to our in-person programming being on a temporary hold, we are offering the seniors of the Coronado Retirement Village an opportunity to enjoy videos of our volunteers reading storybooks on camera, just as they themselves will be able to once it's safe for facilities to re-open their doors.
The on-video readers include Reading Legacies team members, mothers and daughter from the National Charity League Del Sol Chapter, and Girl Scout members, including high-school senior Mara Juergensen, who is partnering with us to bring this program to life.
Thanks to the generosity of the Coronado Public Library, the books being read in the videos are the same ones the seniors will have the opportunity to read if they participate in the Grandparents Storybook Program. Copies of each book are currently inside the Retirement Village, ready to be read!
Storytime
Visit our Storytime page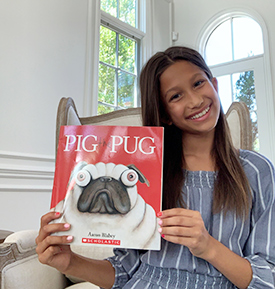 Reading Legacies is proud to present Storytime. Join us on Instagram and Facebook every Monday, Wednesday & Friday to hear local authors, volunteers and community partners read children's books that we all know and love on video.
Visit Storytime Page
Past Events
Winners Read Together • February 23, 2020
Jacobs Center for Neighborhood Innovation • 404 Euclid Ave, San Diego, CA 92114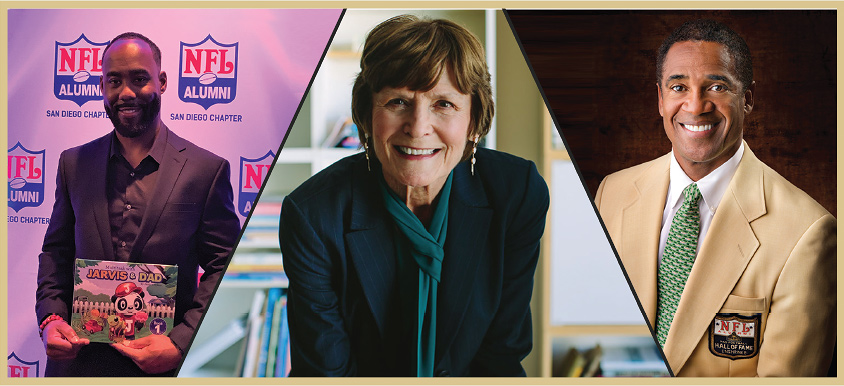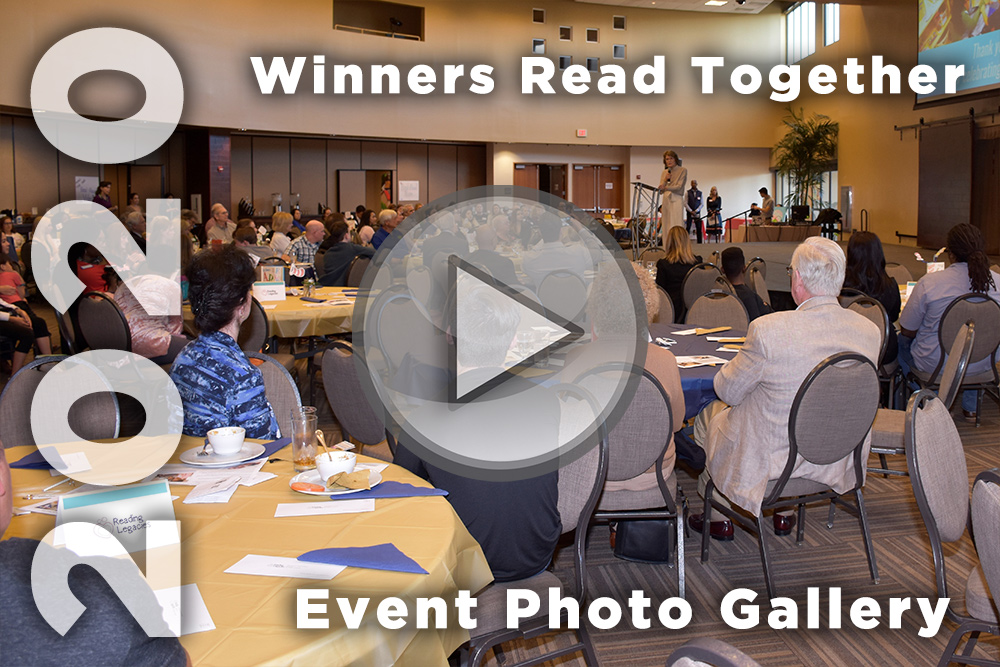 Reading Legacies hosted the "Winners Read Together" event on February 23, 2020 at the Jacobs Center for Neighborhood Innovation in San Diego to celebrate 10 years of invaluable service. The event brought together community members, supporters, program participants, collaborative partners, children, youth, and their families to celebrate and encourage family and friends to read together. Joining and speaking at the event were Pro Football Hall of Famer and Reading Legacies Board Member, Mike Haynes, and former NFL player, current Assistant Athletics Director (San Diego State University) and children's book author, Jashon Sykes.
Please note that the Winners Read Together Anniversary Event took place prior to the COVID-19 outbreak.
Dine-In Fundraising Events - October 20 & 25, 2018
October 20 & 25, 2018 - Two Locations!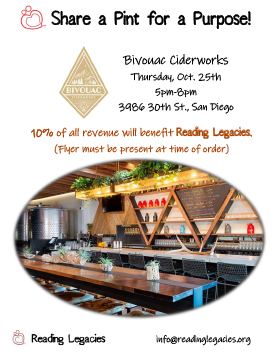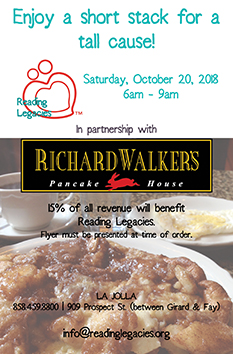 You are invited to enjoy a great meal at either of two locations. If you print a flyer and take it with you, a percentage of the revenue will be directed to Reading Legacies to support its programs.
Saturday, October 20, 2018 6am - 9am
Richard Walker's Pancake House
909 Prospect St. La Jolla
• Print Flyer
Thursday, October 25, 2018 5pm - 8pm
Bivouac Cinderworks
3986 30th Street, San Diego
• Print Flyer
2018 Reading "Links" Communities Fundraiser
May 3, 2018 - The Loma Club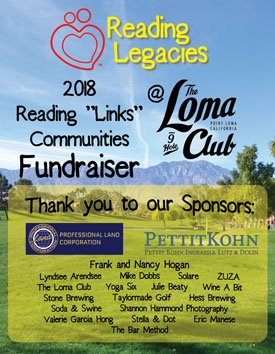 Thanks to those who joined us for a fun afternoon of golf while supporting Reading Legacies. The 9-hole shotgun golf event was followed by a BBQ dinner and happy hour. Reading Legacies appreciates the support of sponsors who helped make this event possible.
2017 Annual Celebration
April 30, 2017 - Sparks Gallery San Diego
Reading Legacies was honored to host this family friendly event to celebrate seven years of service to the community and to show our gratitude to the volunteers and donors who have allowed us to create 35,000 shared-reading experiences for vulnerable children and their family members. You are welcome to click below to view a gallery of photos taken during the event, the PowerPoint presentation shown and a video of the testimonial speakers who shared during the event.