Reading together strengthens relationships.
Joyride Bookshop at Reading Legacies
What's New with Reading Legacies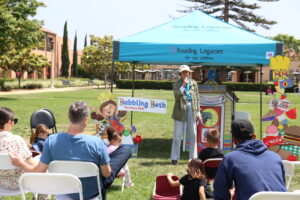 News
A Successful Family Story Hour with Lauren Freckles – June 17, 2023 On June 17, 2023, Reading Legacies hosted a fun "Family Story Hour" at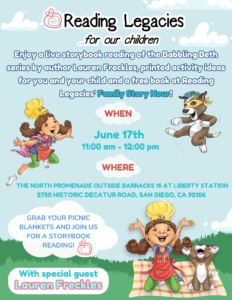 News
Family story hour with lauren freckles – june 17th, 2023 Days Hours Minutes Seconds Our next Family Story Hour will be Saturday, June 17th from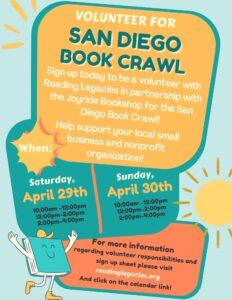 News
Volunteer with reading legacies at the san diego book crawl Come support Reading Legacies and the Joyride Bookshop at the San Diego Book Crawl on
Family Story Hour at Liberty Station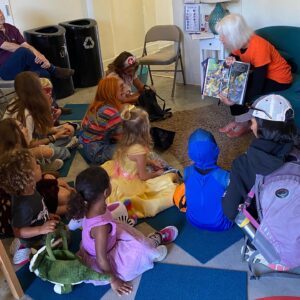 At Family Story Hour, parents and children can listen to and discuss stories read by local children's book authors or Reading Legacies volunteers. It is held every third Saturday of the month from 3:00 PM-4:00 PM inside Barracks 15 (first floor) at Liberty Station and it is open to parents, families, and children of all ages. Through engaging families, while reading a story aloud we want to get grandparents, parents, and children excited about reading storybooks together.
After participating in Family Story Hour, we hope you'll feel encouraged to continue the habit of reading at home, share your experiences, and join us again next time!
Please feel welcome to share this downloadable flyer with friends and family to help spread the word!
Storybook Inspirations Program
Our Storybook Inspirations program is designed to enhance intergenerational relationships by sharing memories and values through storybooks. The purpose of this program is to provide meaningful communication between generations as they read together.
Adult readers are coached and recorded on video reading a favorite book to their children, grandchildren, and other important children in their lives.Their recording and a book are sent to the family to be enjoyed and cherished time and again. A true "reading legacy" is created as readers reflect on their own memories and life experiences as they read the story aloud. It's a gift to be treasured by generations!
Program Locations: 
Reading Legacies Story Corner at Liberty Station 
Retirement facilities in San Diego County 
Public Libraries in San Diego County 
Joyride Bookshop, a children's bookshop in San Diego, aims to provide a space for all children to discover the wonder, humanity, and capacity of books created and curated just for them. We believe in the inherent possibility of a story, and we believe in community partnerships. We want to be a resource for equal representation, independent publishers, books in translation, and books in native languages. We value the stories of complex characters and the ideas of underrepresented authors and illustrators.
Location and hours:
2750 Historic Decatur Rd., Suite 104
10 AM-5 PM Thursday- Saturday

Our Mission
To facilitate supportive relationships for children through family and friends reading aloud with them. 
Our Vision
That all children will feel the security of caring adult relationships and develop a love of reading through the read-aloud experience.
Using reading as a way to say, "I love You"

Mother and Program Beneficiary
"My son was extremely proud of the book afterward, carrying it around with him everywhere. He then later decides to re-read the book to his baby brother!"
Father and Program Beneficiary
"This is priceless… It actually touches my children, unlike other means… Anytime they pick up a book they will remember that I took the time to care enough to read to them, together. Please continue to bring our kids a smile."
"Volunteering for Reading Legacies comes with an invisible badge of honor that I wear proudly on my heart, knowing that, through the book which an inmate reads and the video of him reading it, a bond with his child/ren is made and/or sustained."
To Positively Impact the Life Of A Child

Your contribution helps bring families together through the magic of reading. These experiences make an important difference in the lives of children.
Thanks to the generosity of our supporters, thousands of children are read to through our programs each year. All of our donors and volunteers receive our quarterly and annual reports to stay up-to-date on the impact they've made in the lives of children and families.