Reading together strengthens relationships.
What's New with Reading Legacies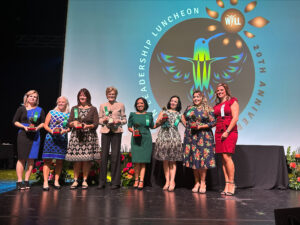 News
The Women in Leadership Luncheon has been held every year for the past twenty years by the San Diego Regional East County Chamber of Commerce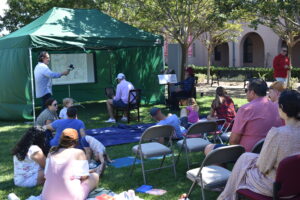 News
On September 11, Reading Legacies hosted a special Family Story Hour at Liberty Station. John and Stacy Snyder, local children's book authors, read their books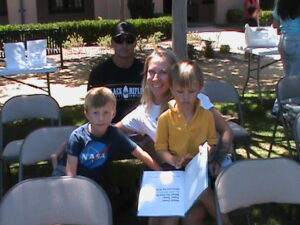 Uncategorized
Previous Next The read-aloud fun continues with our monthly Family Story Hour events, hosted at Liberty Station! On June 18th, Reading Legacies hosted a special
Family Story Hour at Liberty Station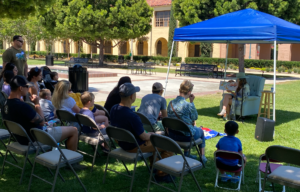 At Family Story Hour, parents and children can listen to and discuss stories read by local children's book authors. Our most recent Family Story Hour was on September 11, 2022. Stacy Snyder and her husband John Snyder read their books My Name is Sugar and The Sugar Shack, both based on their rescue miniature horse and dog, Charger. 
Family Story Hour is held outside Barracks 15 (North Promenade field) at Liberty Station and it is open to parents, families, and children of all ages. Through engaging families, while reading a story aloud we want to get grandparents, parents, and children excited about reading storybooks together.
After participating in Family Story Hour, we hope you'll feel encouraged to continue the habit of reading at home, share your experiences, and join us again next time!
Stay tuned for our next Family Story Hour! 
Storybook Legacies Program
Our Storybook Legacies program (formerly known as Grandparent Storybooks) is designed to enhance intergenerational relationships by sharing memories and values through storybooks. The purpose of this program is to provide meaningful communication between generations as they read together.
Adult readers are coached and recorded on video reading a favorite book to their children, grandchildren, and other important children in their lives.Their recording and a book are sent to the family to be enjoyed and cherished time and again. A true "reading legacy" is created as readers reflect on their own memories and life experiences as they read the story aloud. It's a gift to be treasured by generations!
Program Locations: 
Reading Legacies Story Corner at Liberty Station 
Retirement facilities in San Diego County 
Public Libraries in San Diego County 

Our Mission
To facilitate supportive relationships for children through family and friends reading aloud with them. 
Our Vision
That all children will feel the security of caring adult relationships and develop a love of reading through the read-aloud experience.
Using reading as a way to say, "I love You"

Mother and Program Beneficiary
"My son was extremely proud of the book afterward, carrying it around with him everywhere. He then later decides to re-read the book to his baby brother!"
Father and Program Beneficiary
"This is priceless… It actually touches my children, unlike other means… Anytime they pick up a book they will remember that I took the time to care enough to read to them, together. Please continue to bring our kids a smile."
"Volunteering for Reading Legacies comes with an invisible badge of honor that I wear proudly on my heart, knowing that, through the book which an inmate reads and the video of him reading it, a bond with his child/ren is made and/or sustained."
To Positively Impact the Life Of A Child

Your contribution helps bring families together through the magic of reading. These experiences make an important difference in the lives of children.
Thanks to the generosity of our supporters, thousands of children are read to through our programs each year. All of our donors and volunteers receive our quarterly and annual reports to stay up-to-date on the impact they've made in the lives of children and families.