Happy Halloween from Reading Legacies!
This year, we hosted "Spooky Storytime" outside the Reading Legacies Story Corner. Dozens of families and children all dressed in costumes stopped in for sweet treats and live readings of Halloween storybooks.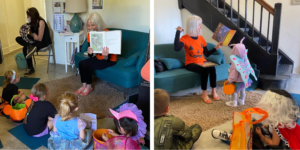 One of our newest volunteers, a former educator named Elizabeth Ponder, led the way as she brought the stories to life for our storytime guests.
Some of the books included: