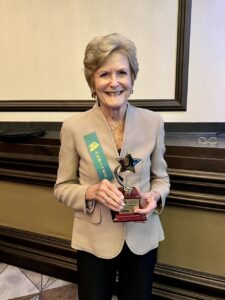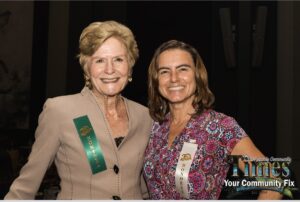 The Women in Leadership Luncheon has been held every year for the past twenty years by the San Diego Regional East County Chamber of Commerce to honor women across San Diego County who are community Leaders. Our President and Founder, Betty Mohlenbrock, was nominated by our Book Bridges volunteer, Elana Levens-Craig to receive a Women in Leadership award on October 21, 2022, at Sycuan Casino Resort.
Kristine Costa, Chairwoman of the Women in Leadership Luncheon said in a recent San Diego Business Journal article by Karen Pearlman, "This event allows us to recognize deserving women leaders for selfless acts, leadership achievements, community contributions and dedication to their profession. We showcase women from around the county, leaders throughout the region who influence other women, encourage them to take on more, and inspire the next generation of leaders, including those in the business community in San Diego."
Betty is a longtime educator, reading specialist, and non-profit executive. In the last thirty years, she created two non-profits that continue to thrive in helping children and families overcome extended parental separation and other significant obstacles to develop sustained bonds and foster a love for literacy. She founded United Through Reading (UTR) in 1989 and her current endeavor, Reading Legacies, in 2009. In more than thirty years in these capacities, Betty helped nearly 3 million military members, as well as teachers, mothers, fathers, aunts and uncles, older siblings, and children, share their stories who otherwise would not get the opportunity. Betty's current Reading Legacies and its volunteers have served over 60,000 individuals in the last 10 years alone. Betty has extensive experience in the areas of management, fundraising, and program strategies based on her experience with international programs as well as her integrity and wise stewardship of millions of dollars contributed by community members.
"There's a universal truth I observed over the years of serving, and that is that parents want the best for their children," Betty said. "Parents usually want their children to have better lives than they had. The appreciation, the gratitude, and the individual life changes are heartwarming, and that's what keeps me going."