President's Message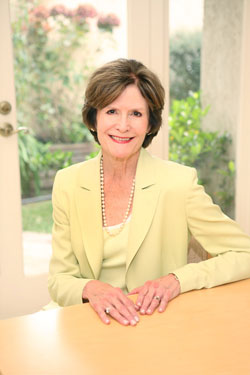 Dear Friends of Reading Legacies:
It is such a joy to reach out to you and provide an update on the status of our ongoing efforts to empower young children, their teen counterparts, and families in general about the many benefits of reading aloud together regularly. Our programs are designed with a primary focus on helping children and youth experiencing challenges in their lives which compromise their opportunities to be prepared for success in reading, school, and life.
Over our eight years of service within San Diego County, our programs have improved the lives of over 44,000 children and their family members. The rewards for all of us (beneficiaries, volunteers, staff, donors, and collaborative partners) have been and will continue to be extremely powerful.
One of our organization's core values says it this way: "We value service to others as a powerful method for personal growth and increase in self-worth." Another way of saying it is "it's a win-win situation!"
Gratefully,
Betty
---
Betty J. Mohlenbrock, M.Ed. - President
Betty's background in primary education and nonprofit management has uniquely prepared her for the role of Founder and President of Reading Legacies. Her first nonprofit organization, United Through Reading (UTR), benefited over one million military service members and their families during her 20 years of leadership. Upon turning over the reins of UTR in 2008, she launched Reading Legacies in 2010 in order to reach out to children and youth who lack the emotional support of committed role models or whose lives have been torn apart by parental incarceration. Reading Legacies provides solutions to these devastating societal challenges through the transformational power of the shared-reading experience.
Congressional Medal of Honor Award
The Congressional Medal of Honor Society announced its 2016 Citizen Honors Award winners. Five awardees were selected for their acts of courage or selfless service, including The Congressional Medal of Honor Society Community Service Hero Award to United Through Reading (UTR) based in San Diego. Founded by Betty Mohlenbrock 28 years ago, UTR was selected for its innovative and grassroots response to a critical need in the armed forces community, their exceptional international impact on military families, and demonstrating the impact of one person's courageous transformative vision and actions. They were recognized in a ceremony at Arlington National Cemetery on National Medal of Honor Day, Friday, March 25, 2016.
---
Our History
During the more than two decades of managing her first nonprofit organization, Founder Betty J. Mohlenbrock, M.Ed. was able to witness the impact that reading aloud with young children has on people of all ages, not just the child or parents. Her findings, coupled with the personal belief that youth are a powerful and important resource for the future of society, led her to begin shaping the framework for programs that would positively impact all children and youth, especially those who are underserved and at-risk for failure in school and life.
Stephen R. Lewis, M.D. Legacy
Reading Legacies is honored and privileged to carry on the legacy of Stephen R. Lewis, M.D., beloved and respected physician, and family friend. His life was an exemplary model of dedication to family and community, and a strong belief in providing a foundation for children and youth to be successful in life. To that end, our Board of Trustees has established the Stephen R. Lewis, M.D. Legacy Fund at the Jewish Community Foundation with the purpose of funding the leadership position of Reading Legacies, the Stephen R. Lewis, M.D. Presidential Chair.
Reading Legacies is working closely with his family to deliver programs with highest integrity that will fulfill his vision for children and youth. The Board is both grateful for and humbled by the generosity of so many of Steve's family and friends. Together, we are paying a high tribute to this wonderful man's life. In order to participate in this Legacy Fund, simply make note of this on your contribution. If you desire further information, please contact us.