2018 Reading "Links" Communities Fundraiser
May 3, 2018 - The Loma Club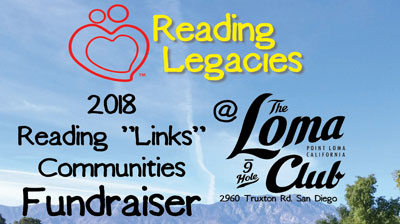 Plan to join us for a fun afternoon of golf while supporting Reading Legacies. The 9-hole shotgun golf event will begin at 3:00 p.m. (registration at 2:30 p.m.). A BBQ dinner and happy hour will follow at 5:00 p.m.
2017 Annual Celebration
April 30, 2017 - Sparks Gallery San Diego
Reading Legacies was honored to host this family friendly event to celebrate seven years of service to the community and to show our gratitude to the volunteers and donors who have allowed us to create 35,000 shared-reading experiences for vulnerable children and their family members. You are welcome to click below to view a gallery of photos taken during the event, the PowerPoint presentation shown and a video of the testimonial speakers who shared during the event.